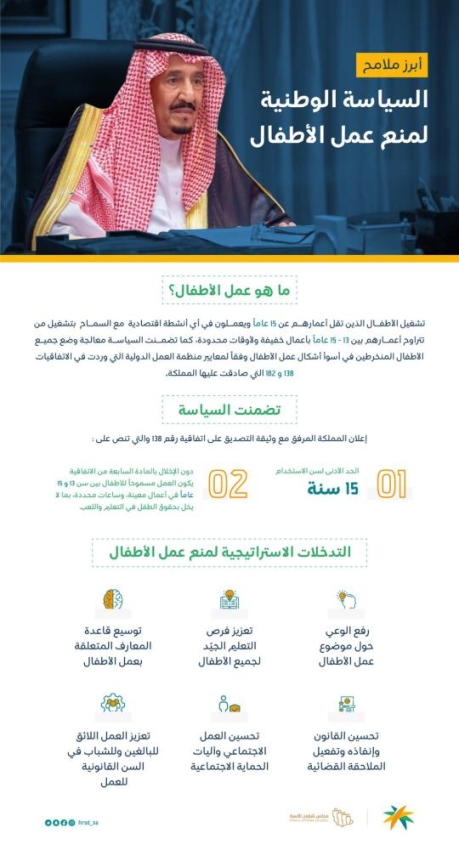 His Excellency the Minister of Human Resources and Social Development and Chairman of the Family Affairs Council, Engineer Ahmed bin Sulaiman Al-Rajhi, appreciated the decision of the Council of Ministers headed by the Custodian of the Two Holy Mosques – may God protect him – to adopt the national policy to prevent child labor in the Kingdom, which aims to provide a safe environment that supports childhood to reach a society that enjoys It includes children with all their rights that are guaranteed to them by Islamic law and the legislative system in the Kingdom.
His Excellency expressed his thanks and appreciation to the wise leadership for its continuous efforts in the field of protecting children's rights by approving legislative and executive means in support of childhood, pointing out that children constitute a high value for any society and that they are the basis of human wealth for the future.
His Excellency stated that the declaration that the Kingdom attached to the ratification document of Agreement No. (138) which states that the minimum age for employment in the work system in the Kingdom – or on the means of transport registered on its territory – is fifteen years of age, which represents a gain for the family and society and would prevent Child labor, which is consistent with the international obligations of the Kingdom of Saudi Arabia, as the Kingdom ratified the International Labor Organization Convention No. 182 in 2001 regarding the worst forms of child labor issued in 1999, and in 2014 it ratified the International Labor Organization Convention No. (138) regarding the minimum age for employment, as well as the Kingdom's commitment to achieving the 2030 Agenda for Sustainable Development. The Kingdom has also approved the Convention on the Rights of the Child, and the two optional protocols to the convention related to the protection of children in armed conflicts and others, as well as the establishment of an institutional framework related to child labor and their protection, and the establishment of the Family Affairs Council, which includes a specialized committee dealing with childhood issues in the Kingdom, in order to support and strengthen the family's position and its role in society and the governorate. To remain strong and cohesive, concerned with its individuals.
The national policy for the prevention of child labor includes a set of elements, the most prominent of which is expanding the knowledge base on child labor by creating a database on child labor with the support of the International Labor Organization, and adopting a list of hazardous work prohibited for persons under the age of 18 years, as well as promoting decent work for young adults of age. In addition to improving social work and social protection mechanisms, building the capacities of specialists in this field, promoting quality education opportunities for all children, as well as raising awareness on the subject of child labor by organizing a number of awareness-raising activities in this regard.
.