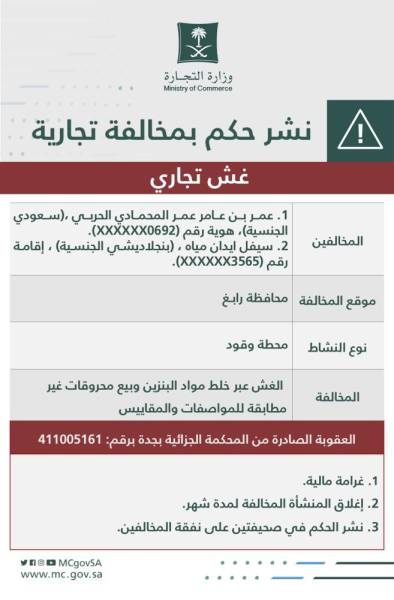 The Ministry of Commerce defamed the owner of a fuel station and a resident worker of Bangladeshi nationality in Rabigh Governorate, after a court ruling convicted them of violating the anti-commercial fraud law, and the facility's involvement in fraud was proven by mixing gasoline 91 and 95 materials, and selling fuel that does not comply with specifications and standards.
The Ministry published a summary of the judicial ruling issued by the Criminal Court in Jeddah, which included imposing a fine, closing the station for a month, and defamation by publishing the text of the judgment in two newspapers at the expense of the violators.
The Ministry of "Trade" stresses monitoring the commitment of fuel stations in all regions of the Kingdom to protect consumers, controlling violations of the anti-commercial fraud system, and applying legal penalties. The system provides for penalties of up to three years in prison and fines of up to one million riyals or both. And defaming the violators at their expense, and deporting the violating workers to their countries and preventing them from returning to work in the Kingdom.
Commerce urges all consumers to submit their reports about the violating establishments through the application of a "commercial report" at the link: (click here http://mc.gov.sa/ar/Pages/MobileApps.aspx) or through the communications center on the number 1900 Or the official website of the ministry on the Internet.
.