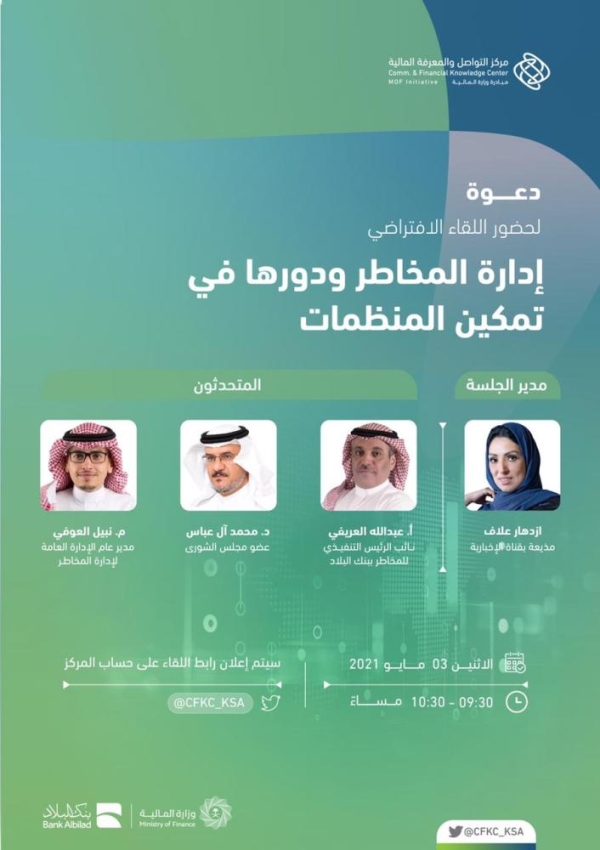 The Financial Knowledge and Communication Center "Mutamem" will hold a virtual meeting entitled: "Risk Management and its Role in Empowering Organizations" on Monday evening Ramadan 21 1442 AH corresponding to May 3, 2021 AD, as part of a series of virtual meetings through which the Center aims to enrich knowledge in the economic and financial aspects.
A number of specialists in the field of risk management will participate in the meeting, namely: Dr. Muhammad Al Abbas, a member of the Shura Council, Professor Abdullah Al-Arifi, Executive Vice President for Risks at Bank Al-Bilad, and Engineer Nabil Al-Awfi, Director General of the General Department of Risk Management at the Ministry of Finance, and the media meeting is moderated by Izdihar Allaf.
The meeting's guests will discuss several axes, namely the foundations and basic principles of risk management, and the developmental stages of risk management procedures. It also sheds light on how to assess operational and strategic risks, in terms of objectives and importance, in addition to the success factors of risk management in the entities and organizations within the Kingdom.
The meeting comes with the increasing interest in issues related to risk management in the public and private sectors, and in response to changing events at the local and international levels. In this regard, the Ministry of Finance issued a risk management guideline, which clarifies best practices for sound risk management.
The meeting can be followed up via the live broadcast on the platform of the "Mutamem Center" on Twitter @ CFKC_KSA at 9:30 pm.