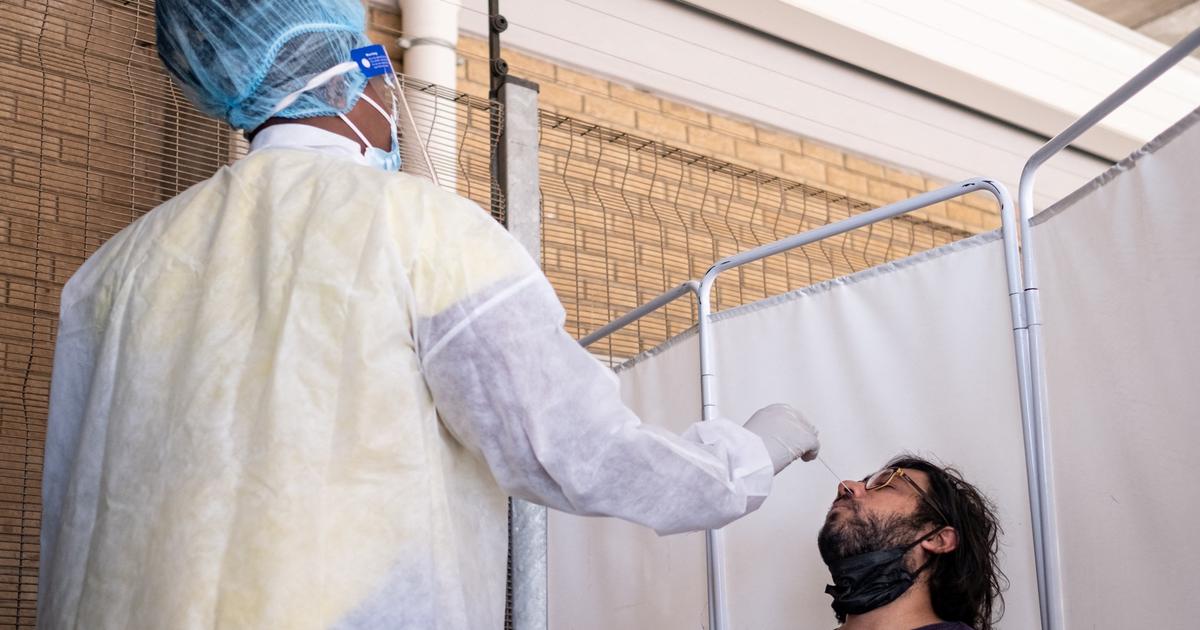 For several weeks, South Africa has been experiencing an increase in contamination. At this stage, the epidemic recovery carried by two sub-variants of Omicron does not worry epidemiologists.
Like an air of deja vu. For several weeks, South Africa has been facing an upsurge in the Covid-19 epidemic. Tuesday, May 10, no less than 7,523 new contaminations were recorded, an increase of almost 100% over one week. An epidemic rebound which is reminiscent of the Omicron wave which swept over the "Rainbow Nation" in December 2021, the fourth since the start of the epidemic. At that time, the bar of 20,000 daily contaminations was notably crossed.
Read alsoCovid-19: why China, caught up in the virus, refuses to abandon its strategyzero covid»
SEE ALSO – The Covid-19 pandemic had caused between 13 and 17 million deaths by the end of 2021, according to the WHO
Not enough to sound the alarm, reassure the experts. Nevertheless, this sharp increase in Covid cases is a call. In question ? A fifth wave carried mainly by two sub-variants of Omicron: BA.4 and BA.5. Identified for the first timebetween mid-December and early January", they represented at the end of April "between 70% and 75%of infections in South Africa, according to epidemiologist Antoine Flahault.
"Excess of transmissibility"
The reason ? Greater transmissibility, due to two mutations within the Spike protein. "This keyring that allows the virus to enter cells"recalls Antoine Flahault. According to a study by Public Health France of April 20, 2022, the BA.4 and BA.5 subvariants have the L452R and F486V mutations in the Spike protein. These would allow a better affinity between the virus and the cells and could cause "an excess of transmissibility".
Read alsoCovid-19: How South Africa overcame the Omicron wave
They could alsoplay a role in vaccine escape"says Antoine Flahault. According to the director of the Institute of Global Health at the University of Geneva, the F486V mutation would attack humoral immunity, acquired by vaccinations or Covid infections. The two sub-variants could therefore "make acquired antibodies less effective". Changes that are of concern to health authorities. The World Health Organization has notably classified the BA.4 and BA.5 sublineages as "variants of interest".
A slight increase in hospitalizations
Could these two sub-variants nevertheless cause an increase in severe forms of Covid? For several weeks, hospitalizations have been rising slightly in South Africa. On May 7, 2,634 people were hospitalized, including 255 in intensive care. The number of deaths from Covid has also seen a slight increase in recent days, with 26 deaths recorded for the day of May 10. Figures that Antoine Flahault nevertheless explains by the high transmissibility of the BA.4 and BA.5 sub-variants.
Nowadays, "they do not show any particular virulence profile", he says. A reassuring speech when South Africa is one of the Cradle of Humankind countries most affected by the Covid-19 pandemic. The country, of which 31.1% of the population has a complete vaccination schedule, announced last March a relaxation of its health restrictions. Some, such as the obligation to wear a mask in certain places, could nevertheless be maintained to fight against the epidemic resumption of recent weeks.
Read alsoCovid-19: vaccinating the most vulnerable, the lessons of a crisis
Regarding France, only two cases of BA.4 and six cases of BA.5 had been identified as of May 2. In a report dated April 20, Public Health France said that these two sub-variants made "subject to heightened surveillance, on the basis of their genetic profile".
---
SEE ALSO – Covid-19: two new sub-variants of Omicron cause a new epidemic peak in South Africa
.