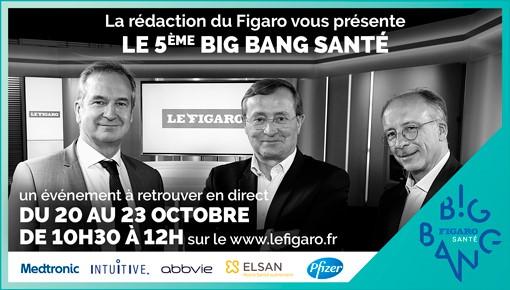 The second wave of coronavirus is an exceptional challenge for the world of health. The fifth Big Bang Health of Figaro is the opportunity to immerse yourself in this unknown. Through testimonials from researchers, doctors, entrepreneurs, adventurers, Le Figaro will shed light on these upheavals and provide answers to the questions raised by this unprecedented situation. With the same approach as in the four previous editions, a look that is at the same time scientific, economic and ethical.
We invite you to meet from Tuesday 20 to Friday 23 October, from 10:30 am to noon on our home page, to follow these meetings on video.
Cynthia Fleury at the opening
Our first "Big Bang", Tuesday 20 October, will be devoted to confinement, this unprecedented test, its impacts, in particular psychological, for the elderly and the chronically ill, as well as the role of accelerator that it plays for telemedicine. It is Cynthia Fleury, philosopher and psychoanalyst who, by analyzing care in our societies, will ensure the opening of this morning of Tuesday, October 20. That same day, Karine Lacombe and Jean-François Toussaint will oppose during a debate and will be broadcast a report on the explorer Stéphanie Gicquel and her experience confined two and a half months at -50 ° C.
The second "Big Bang", Wednesday October 21, will focus on finding treatments and racing against time to find a vaccine. Opened by Stéphane Bancel, the CEO of the American group Moderna Therapeutics, it will see researchers, representatives of biotechnologies and laboratories, such as Olivier Bogillot, president of Sanofi France, confront each other to discuss ways to accelerate research.
Another major trend in medicine, new technologies, such as big data and the use of algorithms in particular to detect patients and the relaunch of StopCovid. Inaugurated by the Secretary of State for Digital Transition and Electronic Communications Cédric O, the third "Big Bang", Thursday 22 October, will be closed directly from Shanghai by Charles-Edouard Bouée, co-managing partner of Alpha Intelligence Capital (AIC).
Last part of this saga, health policies, the sinews of war. French health policy is under fire from critics and the lack of resources has revealed real weaknesses. While the Minister of Solidarity and Health Olivier Véran will close the event on Friday 23 October, the president of the Ile-de-France Regional Council Valérie Pécresse, the head of the emergency department of the Georges Pompidou hospital and former MEP Philippe Juvin and the chairman of the evaluation committee for the management of the coronavirus Didier Pittet, will participate in the debate on the theme: are France and Europe ready to face the new wave?
Follow us on social media: @BigBangFigaro – Facebook Big Bang Figaro
.