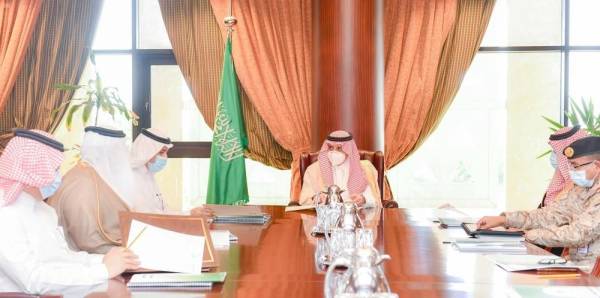 His Royal Highness Prince Fahd bin Sultan bin Abdulaziz, Governor of Tabuk Region, Chairman of the Supreme Committee of the Traffic Safety Committee in the region, today in the meeting room of his office in the emirate the meeting of the Traffic Safety Committee in the region in the presence of the Undersecretary of the Emirate of Tabuk, Muhammad bin Abdullah Al-Haqbani and members of the Supreme Committee related to traffic safety.
At the outset of the meeting, His Highness, the region's governor, stressed the important role of the committee through activating the role of the various committees in Tabuk city and the governorates in the region, and the importance of coordination and cooperation between the authorities concerned with traffic safety.
His Highness stressed that all efforts and initiatives be made to spread traffic awareness, support positive behavior for drivers, and amend wrong practices to take advantage of all electronic platforms to reach the largest segment of society. His Highness also directed to lay down the necessary preventive plans and measures to raise the level of traffic safety on the roads and reduce accidents, as His Highness directed to prepare traffic plans that deal with traffic movement, especially at peak hours or during events that witness heavy traffic, as well as monitoring traffic jams and taking the necessary measures to address them. To discuss a number of topics on the agenda and take the necessary directions regarding them.