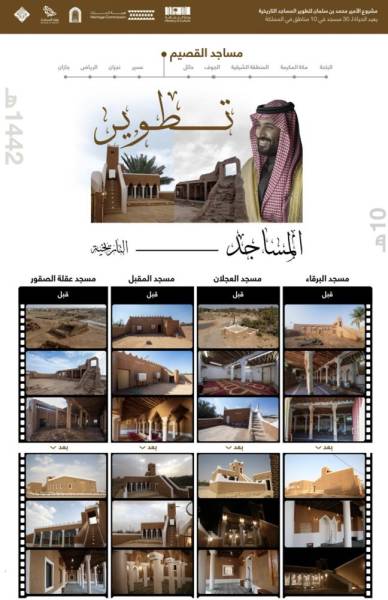 His Royal Highness Prince Dr. Faisal bin Mishaal bin Saud bin Abdulaziz, Governor of the Qassim region, in his name and on behalf of the people of the region, thanked and appreciated His Royal Highness Prince Muhammad bin Salman bin Abdulaziz, Crown Prince, Deputy Prime Minister and Minister of Defense, for Prince Muhammad bin Salman's project to develop Historical mosques, which included the restoration and development of four historic mosques in the Qassim region.
His Highness affirmed in a press statement on this occasion that this generous donation from His Highness the Crown Prince to revive more than 130 historical mosques in several stages in various regions of the Kingdom, at a cost of more than 50 million riyals, four of which are in the Qassim region, which will enable these mosques to play their role and that It revives its previous heritage and regains its position, which is usually a great charitable and Islamic work, not surprising from His Highness the Crown Prince, indicating that this gesture will have a clear impact, with the help of God Almighty, to give these historical mosques their right and a great role in the national heritage of the Kingdom. And His Highness called upon His Highness, the Crown Prince, the trustworthy of this great initiative, and for the leader of the march to preserve the Custodian of the Two Holy Mosques King Salman bin Abdulaziz Al Saud, and for us and our country to perpetuate the blessing of security and stability.
It is noteworthy that those four mosques included in the Prince Muhammad bin Salman project for the development of historical mosques in the Qassim region are the Al-Barka Historical Center Mosque in Asyah Governorate, which dates back to before 1323 AH, and the Al-Ajlan Mosque in the south of Buraidah, which dates back to more than 350 years. And Al-Muqbel Mosque in the west of Buraidah, which dates back to before 1378 AH, and the Uqla Al-Suqur Heritage Mosque in the northeastern province of Uqlah Al-Suqur, dating back to 1341 AH.
.