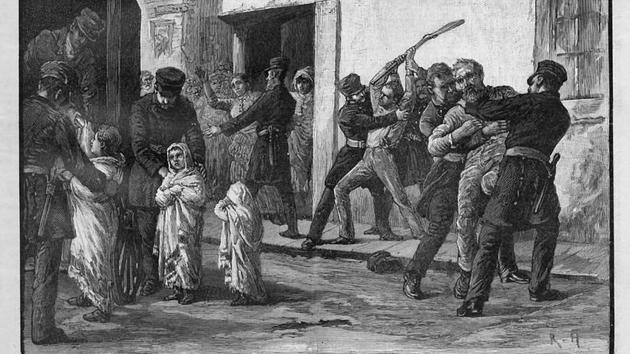 MEDICINE STORIES – The obligation to vaccinate against smallpox, in Montreal, triggers the fierce opposition of the population. A resistance that goes beyond the simple health framework.
"Kill Em vaccinators!" The stones fly towards the windows of the public health office. Some 2,000 men break down the doors and ransack the building, then go up Sainte-Catherine Street towards the town hall. The mayor rings the bells of the cathedral to alert the neighborhood police. They charge, strike with sticks; shots ring out. The crowd disperses and attacks pharmacies, doctors' houses and newspapers.
Read also"The slowness of French vaccination is a symptom of our downgrading"
We are on the evening of September 28, 1885, in Montreal. The previous week, 245 people died of smallpox. The disease arrived on February 28 by two railway employees, one isolated at home, the other sent to the Hôtel-Dieu with a mild form from which he emerged unscathed. Pélagie Robichaud, a servant at the hospital, was not so lucky: contaminated by soiled sheets, she died on the 1er April 1885, followed by her sister, Marie. They are the first victims of an epidemic that will kill more than 3,000 people in Montreal…
.