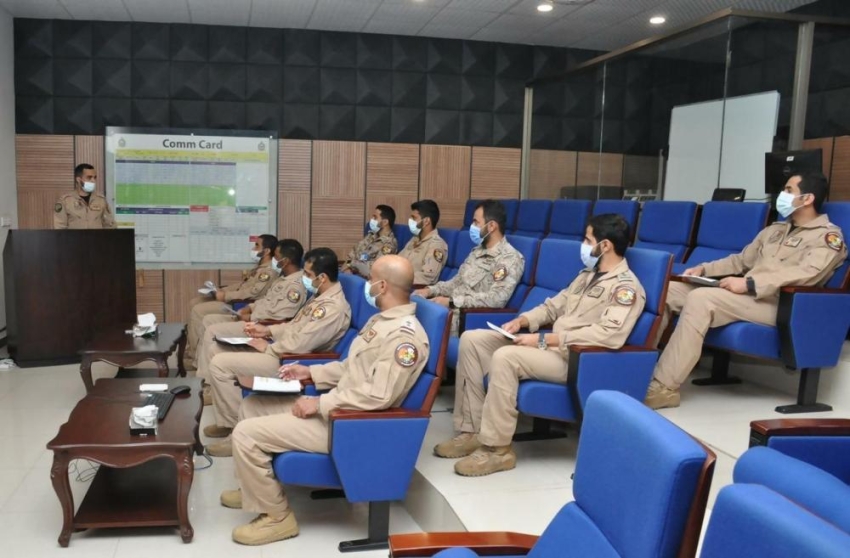 The commander of the King Abdulaziz Air Base in the eastern sector, Major General Eid bin Barak Al-Otaibi, pilot visited the Royal Saudi Air Force group participating in the mixed air exercise (Air Superiority Center 2021) in the Islamic Republic of Pakistan. Syed Numan Ali Hai, and the Saudi military attaché to the Islamic Republic of Pakistan, Major General, Pilot P.S.C Awad bin Abdullah Al Zahrani, and Commander of the Saudi Royal Air Force Group participating in the exercise, Lieutenant Colonel Fayeh bin Abdul Rahman Al-Roqi.
The pilot, Roken Al-Otaibi, listened to a briefing about the exercise, the preparations that preceded the implementation of the exercise, and what had been achieved since the beginning of the exercise so far in terms of the exercise maneuvers and the objectives that had been achieved.
He explained that such exercises require a high level of competence and professionalism in the operational, technical and administrative aspects that, thanks to God, are available in the Royal Saudi Air Force with its capabilities, capabilities and accumulated experience through the participant in international mixed exercises.
He referred to the capabilities and capabilities of the Saudi Royal Air Force to transport the participating aircraft systems, equipment and personnel thousands of miles with purely Saudi capabilities, and to adapt to work in different air environments with the highest levels of safety and professionalism, which is nothing but solid evidence of the distinct national competencies our air forces possess.
He praised the unlimited support of the Armed Forces from the Custodian of the Two Holy Mosques King Salman bin Abdulaziz Al Saud, Supreme Commander of all military forces, and His Royal Highness Prince Muhammad bin Salman bin Abdulaziz, Crown Prince, Deputy Prime Minister and Minister of Defense – may God protect them.
He referred to the close and continuous follow-up of His Highness the Commander of the Royal Saudi Air Force, Lieutenant General Turki bin Bandar bin Abdulaziz, to overcome all obstacles and difficulties to achieve the desired goals of participating in the exercise and the return of the participants to the homeland safely and Ghanmin.
It is noteworthy that the Saudi Royal Air Force (Tornado) multi-tasking aircraft with its air, technical and support crews continues to participate in the joint air exercise (Air Superiority Center 2021) in which the US Air Force and the Air Force of the host country Pakistan participate.
.