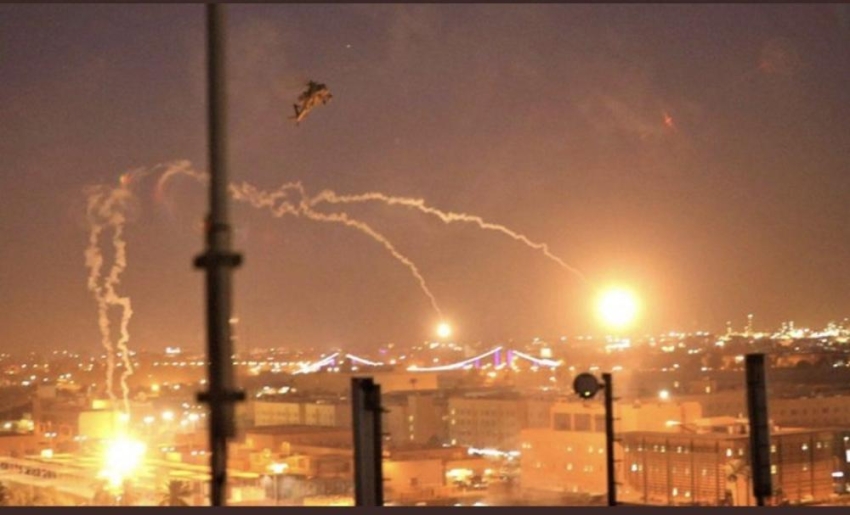 Military and security sources reported to Agence France-Presse that missiles were fired yesterday evening, Monday, at the US embassy in Baghdad, but fell close to the huge compound located in the heavily fortified Green Zone, in the third attack targeting Western interests in Iraq within a week. The Iraqi security services said in a statement at dawn today, Tuesday, that at least two rockets landed inside the Green Zone, where the headquarters of foreign embassies, including the United States, are located.
A security source inside the Green Zone said that the anti-missile defense system at the US embassy did not fire to intercept the missiles because they were not directed to fall inside the diplomatic complex. A security source told France Press that at least one missile hit the headquarters of the Iraqi National Security Agency near the headquarters of the American diplomatic mission, causing damage to several parked cars. A US-led coalition in Iraq has been overseeing a base near the US embassy since 2014 to help Iraqi forces combat the terrorist group. "The coalition has reported no damage or injuries," coalition spokesman Wayne Maruto said on Twitter.
The Iraqi military said at least another missile landed in the nearby residential al-Harithiya neighborhood. A resident of the neighborhood told France Press that the missile struck a multi-storey car park. No one immediately claimed responsibility for the attack, but the army said it had located the rocket launch site in a neighborhood north of Baghdad. Shortly after this bombing, the United States warned Iran that it would hold it "responsible" for the actions of its followers in Iraq, but at the same time it affirmed that it would not seek to escalate the conflict.
"We will hold Iran responsible for the actions of its followers who attack the Americans" in Iraq, said State Department spokesman Ned Price, explaining that US forces would avoid contributing to "an escalation in the interest of Iran." The attack comes a week after more than a dozen missiles targeted a military compound at Erbil airport in northern Iraq where foreign forces from the US-led coalition have been stationed and have been helping Iraq fight ISIS since 2014. At that time, two people were killed, one of whom was a foreign contractor working at the airport who died instantly and a civilian. He died of his wounds Monday.