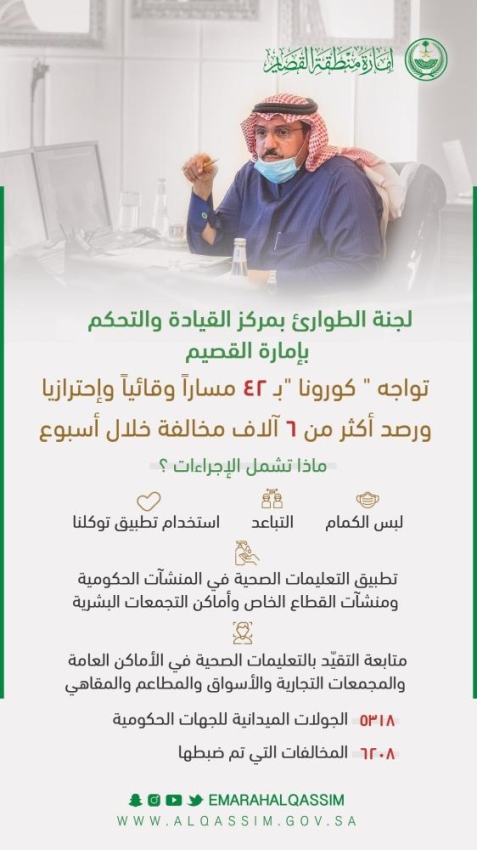 The competent government agencies represented by the Emergency Committee in the Qassim Region carried out 5318 field trips that resulted in the monitoring of 6,208 violations within a week, and regular measures were taken against them, in order to prevent the spread of the Corona virus and to emphasize the importance of adhering to the preventive protocols, and following up on instructions and measures that ensure the reduction of infection with the virus.
The official spokesman for the emirate of the region, Ahmed Al-Hussain, confirmed that the Supreme Emergency Committee in the region's emirate led by His Highness Prince Faisal bin Mishaal includes in its membership 14 government and security sectors that form a number of field teams to ensure the implementation of instructions and preventive precautionary measures according to 42 paths, including wearing a mask, spacing, and applying Health instructions in government and private sector establishments and places of human gathering, obligating everyone to use the "Tawakolna" application, raising the level of awareness and protecting the community, and following up compliance with health instructions in government and private headquarters, public places, commercial complexes, markets, restaurants and all cafes, so that these measures contribute to the prevention. And safety from the spread of the virus.
He explained that these measures come in accordance with the directives of His Highness, the Emir of the Qassim region, and his continuous emphasis on the importance of taking precautionary measures as a continuous lifestyle, the importance of not tolerating the seriousness of the epidemic, and the need to adhere to the application of precautionary measures and preventive measures to limit the spread of Corona virus in the region.
.