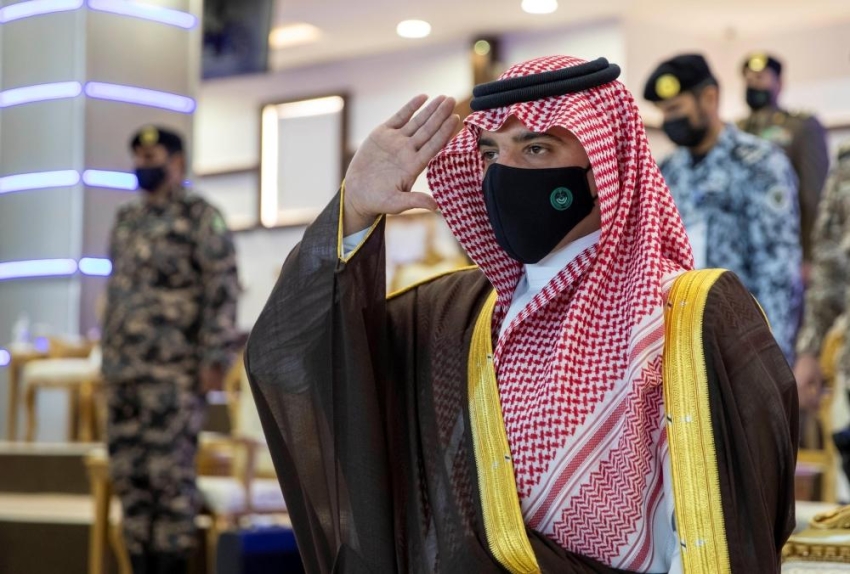 His Royal Highness Prince Abdulaziz bin Saud bin Nayef bin Abdulaziz, Minister of Interior, sponsored this evening "Monday" the graduation ceremony of 1590 graduates of the King Fahd Security College from the qualification course (50) for university officers, and the batch (62) of students of the Bachelor of Security Sciences And the two classes (9) and (10) of the students of the Security Academic Program for Foreign Scholarships for the academic year 1442 AH, at the college's headquarters in Riyadh.
The Director General of King Fahd Security College, Major General Dr. Ali bin Abdulrahman Al-Duaij, delivered a speech during the ceremony in which he confirmed that the college would go ahead in providing security programs according to the latest methods of education and training, thanks to God and then with the unlimited support of the Custodian of the Two Holy Mosques King Salman bin Abdulaziz Al Saud And His Royal Highness Prince Muhammad bin Salman bin Abdulaziz, Crown Prince, Deputy Prime Minister and Minister of Defense – may God protect them -, and continuous follow-up by His Highness Prince Abdulaziz bin Saud, Minister of Interior.
He explained that the college took into account in presenting its programs the application of precautionary measures while preserving their quality, as it implemented plans that affected the educational and training process, to ensure proper preparation, elaborate preparation and safety of implementation.
Then the college's first sergeant, Omar bin Abdul Hamid al-Subhi, delivered the graduates 'speech in which they thanked His Highness Prince Abdulaziz bin Saud for sponsoring their graduation ceremony, stressing their readiness to join with their colleagues in the fields of pride and honor to serve the country and maintain its security. After that, the military parade began, which included the graduates' march, and then the ceremony was held to hand over the college's flag from the predecessor sergeant to the successor sergeant.
After that, the graduates echoed the oath of loyalty and obedience to be loyal to God and then to the king and the homeland, and to raise the word of truth and stand an impenetrable block in the face of anyone who wants to harm the security and safety of the homeland.
Then I announced the general result of the educational programs and training courses for the academic year 1442 AH. At the end of the ceremony, the royal anthem was played. The ceremony was attended by His Highness Prince Dr. Bandar bin Abdullah bin Mishari, Assistant Minister of Interior for Technical Affairs, His Excellency the Head of State Security, Professor Abdulaziz bin Muhammad Al-Huwairini, His Excellency Deputy Minister of Interior Dr. Nasser bin Abdulaziz Al-Dawood, and a number of Excellencies and senior officials.
.