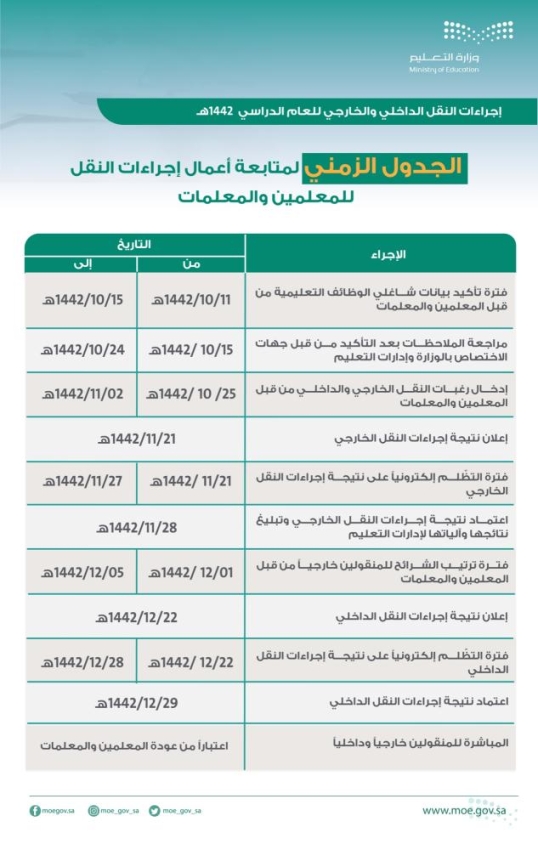 Today, Sunday, 11/10/1442 AH, the Ministry of Education started at nine in the morning. Availability of applying for internal and external transfer procedures for occupants of educational positions for the academic year 1442 AH.
The mechanisms of transport procedures this year are characterized by their implementation on the Fars system and the synchronization of the internal transport request with the external transport, in addition to the absence of the need to update the data, but only to confirm it from the transfer applicants, the adoption of the electronic declaration and the absence of the need to print the transfer form, as well as linking the transfer procedures and all its operations in the system One.
Today, Sunday, the Fars system allowed the process of entering the internal and external transfer wishes for male and female teachers applying for the movement for the year 1442-1443, according to the mechanism set by the Saudi Ministry of Education and circulated to educational departments, starting from the opening of the registration stage and data verification, to the procedure that will start starting from Sunday, 25 Shawwal, June 6, 2021, to allow registration of desires in accordance with the controls and rules set by the Ministry for those wishing to apply for the movement this year.
The Ministry of Education clarified that the registration of desires on the link of the new Fars system will continue until the second of Dhu al-Qa'dah 1442, and the wishes of internal and external transport can be entered with a maximum of 20 desires, and those wishing to transfer can be satisfied with registering only one desire, within the procedures of the second phase of the transport movement , while adhering to the dates that were approved in the announced schedule during the stage of opening the electronic submission.
The Ministry of Education confirmed that the transfer request for the incumbent of the educational position ends with announcing the result of the transfer procedures for this year, noting that the rules and regulations will be applied towards those who violate the information security controls and policies and bypassing the powers, and in the event of incorrect data; The Ministry has the right to cancel the transfer process, indicating that if the transfer of the incumbent of the educational position is canceled after the implementation of the procedures for any reason, the transfer of the next in the order is not necessary to ensure the stability of the educational process.
And directed the Ministry of Education to form a central committee under the supervision of the Ministry of School Affairs and the membership of the relevant authorities; To undertake the follow-up, coordination and supervision of the implementation and completion of internal and external transfer procedures, and to prepare the necessary reports for this, in addition to forming committees in the Department or Department of Teachers' Affairs in education departments to implement the transfer procedures.