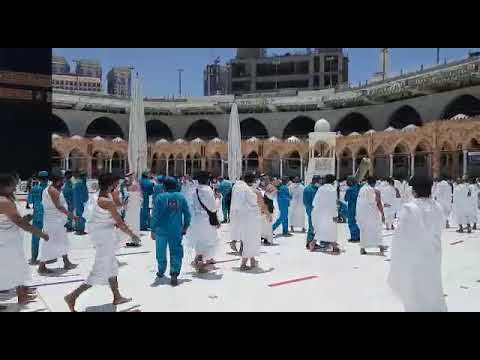 The crowds of worshipers today, the second day of the blessed Eid Al-Fitr, at the Grand Mosque, performed the first Friday prayer in the month of Shawwal, in an atmosphere of reassurance and comfort.
The mosque witnessed the influx of a large number of pilgrims and worshipers from an early age. The processions of the pilgrims heading to the Mataf district continued amid the precautionary measures applied by the General Presidency for the Affairs of the Grand Mosque and the Prophet's Mosque through crowd management with the participation of Hajj and Umrah security forces and the security of the Grand Mosque and teams from the Ministries of Health, Hajj and Umrah and volunteers according to the dates set for them at a time when a large number of pilgrims performed the prayers Friday in the Grand Mosque in the midst of joy and happiness on the arrival of the blessed Eid al-Fitr.
And the first call to prayer in the Grand Mosque was raised by Dr. Issam Khan, the muezzin of the Grand Mosque, while the second call to prayer at the Grand Mosque, Sheikh Muhammad Basaad, was raised.
And the mother of the worshipers today, Dr. Maher Al-Moaikli, the imam and preacher of the Grand Mosque, delivered a sermon in which he congratulated the Islamic nation on the completion of the blessed month of Ramadan and the advent of the blessed Eid Al-Fitr and said: Congratulations to you for fasting, praying qiyaam and reciting the Holy Qur'an, and we ask God to accept all your deeds and obedience.
Al-Muqali said that one of the signs of accepting a good deed is to follow it with a righteous deed, and good deeds with good deeds.
He urged Muslims to fast the six days of Shawwal and said: It is true in Sahih Muslim that the Messenger of God, may God's prayers and peace be upon him, said whoever fasted Ramadan and followed it with six days of Shawwal, it was like fasting the ages, so they took advantage of these opportunities and continued to do good work after the month of Ramadan.